We are excited to share with you our latest company news.
Our team – CEO Hans-Jörgen Henriksson, CTO Robert Åslund, and Senior Product & Global Marketing Manager Oksana Pashchenko – attended Web Summit 2019 to present Goodsomnia's stop-snoring solution with a booth in the Alfa-MedTech and Pharma category.
The Goodsomnia team absorbed all the essential trends and innovative approaches, the hottest technological tools and methods. All will help us make Goodsomnia's stop-snoring solution better and offer a greater user-experience to customers. Our team also met our amazing mentors from Berlin's Startupbootcamp program.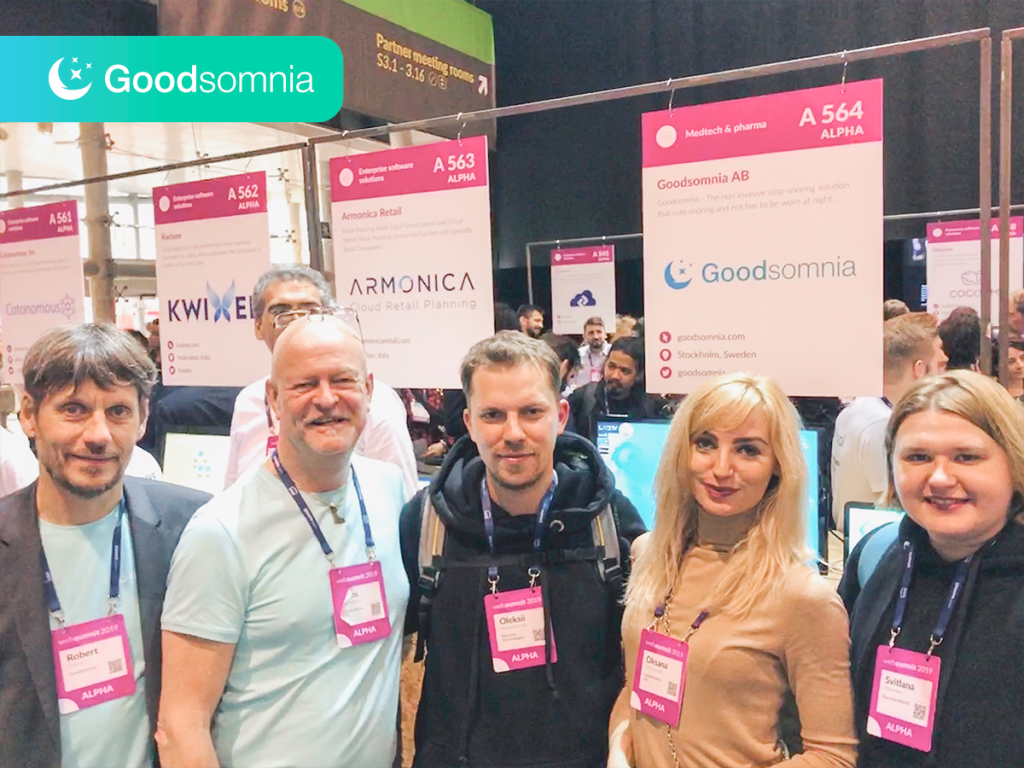 The Web Summit, held in Lisbon, Portugal, is an annual technology conference and considered the largest tech event in the world. In eight years Web Summit has grown from 400 to over 70,000 attendees from more than 170 different countries. It has been called "the best technology conference on the planet".
This year, Web Summit saw 163 countries represented through 2,150 startups, 1,221 investors, 2,526 media, and 8,500 developers. The event was organised on 22 stages featuring 1,206 speakers. Main topics related to data collection and protection, Big Data, development of AI and similar technologies, Digital Health, Tech innovations and Growth strategies.
We were also excited that 46.3% of women attended Web Summit 2019. That's a high number and shows more women are coming to the technology world to contribute.
The Web Summit, founded in 2009, by Paddy Cosgrave, David Kelly and Daire Hickey, was initially held in Dublin, Ireland, until 2016, but has switched to Lisbon for the next decade.
The Portuguese government is very interested in innovation development in their country and Portugal always gives a very warm welcome to companies and entrepreneurs who drive the innovation sector.